About
History of SEA-LECT Designs
As a division of marine hardware manufacturer Sea-Dog Corporation, one of SEA-LECT Designs' focal points is producing high performance hardware and repair accessories through partnerships between customers and our internal design team.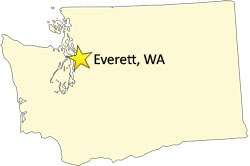 Made in Everett, WA! Through the injection molding capabilities of our sister company, SEA-LECT Plastics, most of SEA-LECT Designs' plastic products are made in the United States where we control all phases of manufacturing to ensure a consistent quality. This means no outsourcing, great pricing, and unmatched reliability in customer service. In addition, through the vast resources of Sea-Dog Corporation, SEA-LECT Designs is able to purchase in quantity and pass along a lower cost alternative for many of those items which need to be brought in from other sources.

As an independent manufacturer of components (we don't manufacture kayaks ourselves, just the parts and pieces that make them up), we're able to concentrate solely on the hardware every paddler needs. As a supplier for boat builders and manufacturers from coast-to-coast … and throughout the world ... we guarantee you've seen our pad eyes, deck line guides, cleats, anchors, rod holders, foot braces and hatch covers on a boat in your neighborhood!

SEA-LECT Designs is committed to bringing more innovative hardware & repair solutions to the Outdoor Industry and your Paddlesports Community. For more information, contact us at (425) 252-2149, or e-mail info@sealectdesigns.
Your Paddlesports Hardware & Repair Solution
If you've been around a paddlesports shop before you know the story ... kayak hardware and accessories are tucked away in a corner just taking up space - thrown in buckets with no packaging or barcode. At SEA-LECT Designs, our goal is simple; to bring all those hard to find hardware and repair accessories out of the back room, storage closet and tackle box behind the counter, and make them easy to find!
We've taken retail packaging for paddlesport hardware to a whole new level. Every item is individually packed in one of our attractive blister packs, clamshells and/or retail bag with header card, and it includes its' item number, UPC code and features a unique barcode to work with inventory management systems. When combined with our innovative merchandising options (noted below), every shop can now have all the tools it needs to solve the problem of providing hardware & repair accessories.